Miller Farms is located in the serene Shenandoah Valley, with picturesque views of the Blue Ridge and Appalachian Mountains.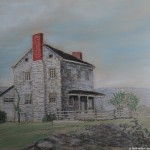 Our farm is comprised of lush rolling hills, four natural springs, two creeks, several historic barns and sheds, and a stone house with significant historical ties to the Civil War.
The battle of Fisher's Hill was fought on our farm, and during that time General Philip Sheridan commandeered the stone house. After he left, the house was ransacked, and a painting above the fireplace of my great, great, grandfather William Miller (a Strasburg town founder) was shot up. Today the bullet holes still exist.
We are a legacy operation in business since the late 1700's, when the land was deeded to my ancestors by Lord Thomas Fairfax. Since then, the farm has produced various livestock, hay, grains, fruit and vegetables. My grandfather, the late Virginia delegate James Ray Miller Sr. was a prominent orchard owner, growing apples and peaches for HJ Heinz & Company. That was until the mid 1950's when HJ Heinz & Co. were forced out of the state for possible pollution to the Shenandoah river. When Interstate 81 was built a few years later, it cut our farm in half and severely crippled the orchard operation.
During my late fathers tenure, James Ray Miller Jr., the farm transitioned from an orchard business to beef cattle. First with Hereford's in 1982 and then to Black Angus in the early 1990's. Aside from cattle, we produce Orchardgrass, clover and fescue hay in round and large square bales. We supplement cattle with locally sourced feed, corn silage and mineral.
We are longtime producing members of The American Farm Bureau Federation, American Angus Association, Virginia Angus Association, The Virginia Cattleman Association and Winchester Livestock Exchange.
Thank you for visiting our website.